the best restaurant in seattle is in rainier beach and that restaurant is KING DONUTS. drive south on rainier. drive past othello street. drive past henderson street. dont skateboard on henderson street or the crips will hastle you. syke, skateboard on henderson street. then KING DONUTS is on yo left, across the street from the rainier beach library. its easy to miss.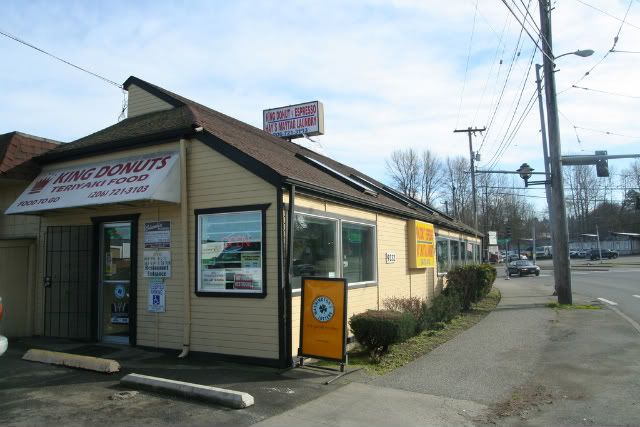 go inside and order a lot of food.
king donuts has the most wonderfully tasty, fresh and sexy donuts in seattle, for 80 cents a pop (40 cents more or somethin like that if you want jelly filling). so tasty man. and turn around, they got milk if you wanna buy that too.
but hold on kid! look up! they sellin teriyaki too!! and its thee booooomb. buy that teriyaki chicken bowl for $3.59 man. yeah $3.59 man! i mean they got other stuff too... fried rice, stir fry, pork and stuff, but get that chicken bowl! and eat it good. cuz its good. with the homemade sauce and stuff.
now chill while you wait for your food. NO DONT CHILL while you wait for your food! walk around the counter and through the door and do your laundry at the laundromat!! yeah!
beautiful wonderful donuts
+
babe-tastic teriyaki
+
laundromat
+
buy your cigs, lottery tickets and calling cards
i promise you, king donuts is my favorite restaurant in all of seattle/the universe. please go eat there, a lot of times.
-black belt micah
and heres per to say some more stuff about KING DONUTS:
Per here. I posted the above picture of LL Cool J and Hannah Montana to represent what it's like to eat at King Donuts. It would be like LL "hangin out" with Montana. Ouch. umm yeah. But this place has love in it. And a lucky cat with a continually moving arm that I want really bad. The donuts are chunky like a funky monkey, plopped like a glazed mushroom of glory. The teriyaki was good and decent sized. I think with another visit I might get more sauce which will make it way better. I have heard it said that the sauce amount varies like the feathers of a peacock.
King Donuts, you been shoulda already knew;
and I really don't get the picture placement system hence my picture locations...